Ignition Distributor - Chevolet GM08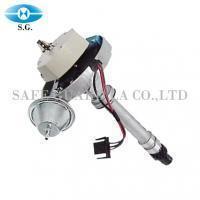 GM08
Product ID: GM08
We are here to present you our best quality ignition distributor. It is durable, and functions so well that you would be amazed by its great quality. Do you want to get your car up and work well again? Safe Guard is your best choice! We have been an experienced manufacturer in producing ignition distributor for more than 50 years. As a consequence, we are definitely a trustworthy partner for you.

Moreover, there is no need to be worried about whether you would get a brand new product with second hand units in it or not. Namely, it is not a rebuilt one. We have tested the product, assuring that every ignition distributor is functioning well. For the immediate experience of out product, please come quickly and sent your inquiry today!

This item is the control role of the whole system. To describe it in a simple way, the product provides three main functions:

1.To trigger the firing of the coil.
2.To control timing advance
3.To distribute or to route the coil's high voltage output to every single spark plugs.

Type
Ignition Distributor
Car Make
GMC
Chevolet
OEM NO.
GM08
Place Of Origin
Taiwan (R.O.C.)
Brand Name
S.G.
Warranty
One year
Certification
ISO 9001
Packing
8 PCS / Carton
Type of payment
L/C T/T

We also have another products:
CH-01 , CH-02 , CH-03 , CH-06 , CH-07 , CH-08 , CH-09 , CH-10
CH-11 , CH-12 , D4P84-04 , D4T93-02 , D4Y94-01A , 33100-77E20
D6P82-03 , D6P87-02 , DG-20 , DG-21 , DG-22 , DG-23 , DG-24
DG-25 , DG-26 , DG-27 , DG-29 , FD-01 , FD-02 , FD-04 , FD-08
FD-10 , FD-12 , FD-13 , FD-14 , FD-16 , FD-17 , FD-18 , FD-19
FD-20 , FD-22 , FD-24 , FD-28 , FD-29 , GM-01 , GM-02 , GM-03
GM-04 , GM-05 , GM-06 , GM-07 , GM-09 , GM-11 , GM-13 , GM-15
GM-17 , GM-19 , GM-21 , GM-23 , HT-01 , HT-02 , HT-03 , HT-04
HT-05 , HT-06 , HT-07 , HT-09 , HT-10 , HT-20 , HT-28 , IZ-01

» Specifications:
» Order Information:
Minimum Order: 6PCS
Branded Product
FOB: Keelung